Grand National Open Teams (GNOT)
FINALS
November 25 - 28, 2011
Tweed Ultima Resort, Tweed Heads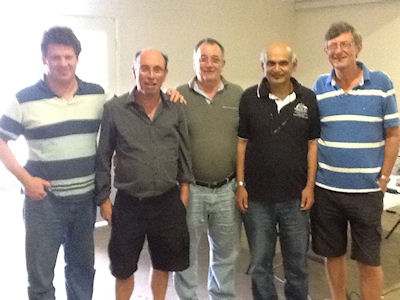 Winners of the 2011 GNOT- Sydney 3
Jamie Ebery, David Beauchamp, Terry Brown, Avi Kanetkar, Kim Morrison
Contact:
John Brockwell
Email:
Venue:
Tweed Ultima Resort
20 Stuart Street
TWEED HEADS NSW 2485
Lunch is available at the venue
Accommodation on site:
Reservations: 07 5599 3500
Parking
Parking is available as follows:
Entry on Bay Street which is just metres around the corner from Ultimo. Exit of this car park is onto Stuart Street which is where Ultimo is located.
Commercial car park next door to Playing Venue.
Limited on street parking and under the building.